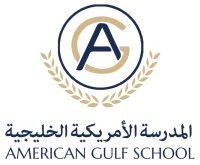 American Gulf School Careers 2022
Aspire, Grow, Succeed
Education Administration Programs
Al Rahmaniya Shaghrafah 4, Sharjah
About American Gulf School
At American Gulf School, we believe that a broader curriculum broadens not only minds but opportunities too. Our learners are encouraged to question and experiment to find answers to critical thinking questions giving every child confidence within their own ability to achieve their full potential.
American Gulf School is situated in the up and coming expanding area of Rahmaniya. We deliver a uniquely broad and diverse curriculum which brings out the best in our learners, both academically and personally. Our School runs project based approach using the American standards. AGS prides itself in the incorporation of a strong National Curriculum into all aspect of school life.
Our school's motto. "Aspire, Grow, Succeed" captures our learners' journey through academia. In the early years we nurture aspirations and help them grow by giving them choices and prepare them for rigorous course work that will enable them to succeed in our ever-changing world. We believe that learners should develop life skills in conjunction with their academic skills in order to achieve their goals and full potential.
American Gulf School can accommodate children from PreK-3 (3 years old) to Grade 12 (18 years old), meaning a high standard of teaching remains consistent throughout the educational life of each of our learners. Each child is unique and we are able to tailor individual lessons to suit their strengths and needs from start to finish.
We offer outstanding academic facilities including a state of the art STEAM/ Robotics Lab from Pre-K3 through Grade classes, a Media Studio, and a KG Design Thinking Lab to mention a few.
Here Latest American Gulf School Jobs Openings
1) Deputy Head of Primary
2) Head National Curriculum
3) Head American Curriculum
4) Head  of KG
Send your CV to careers@ags.ae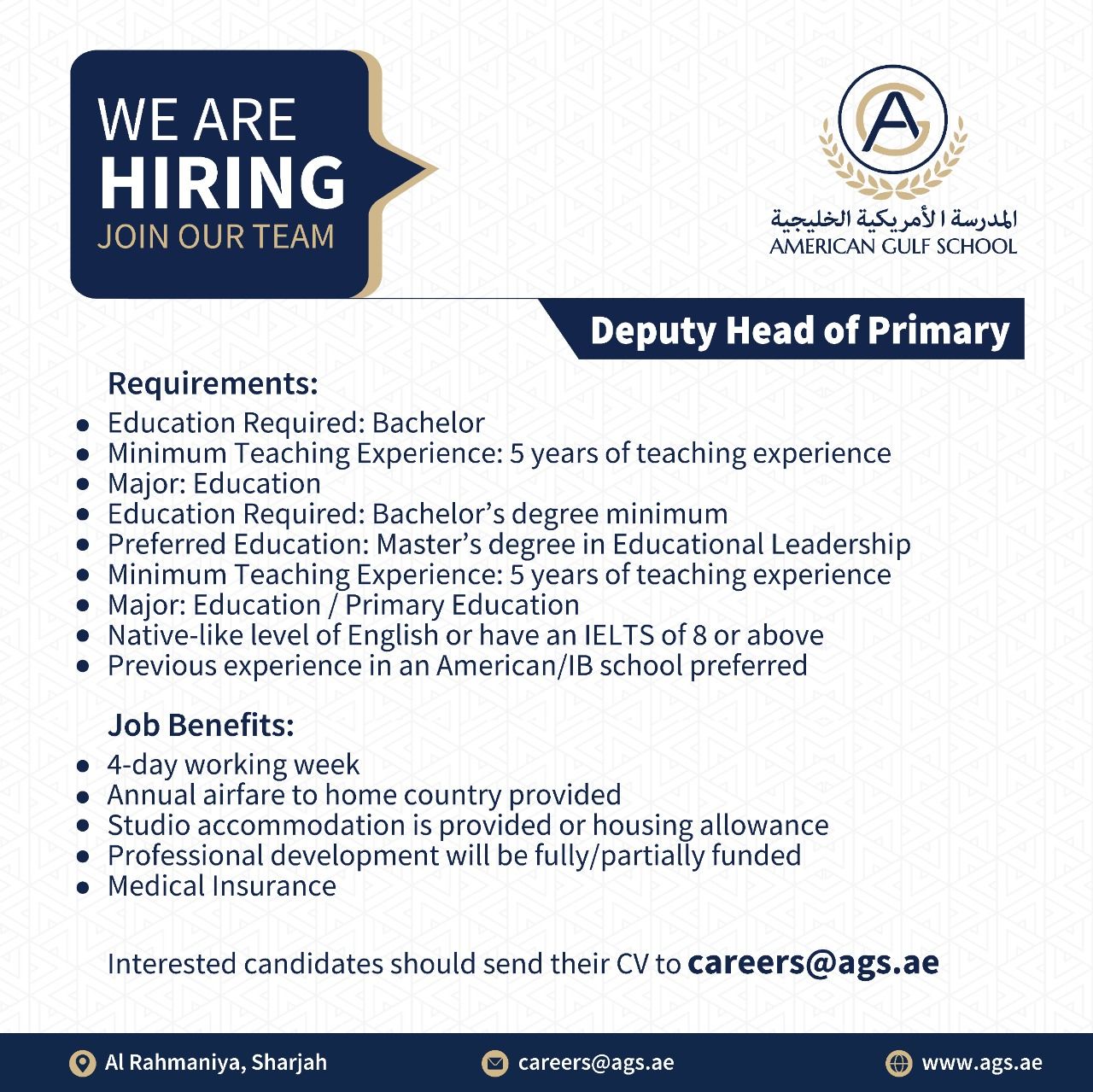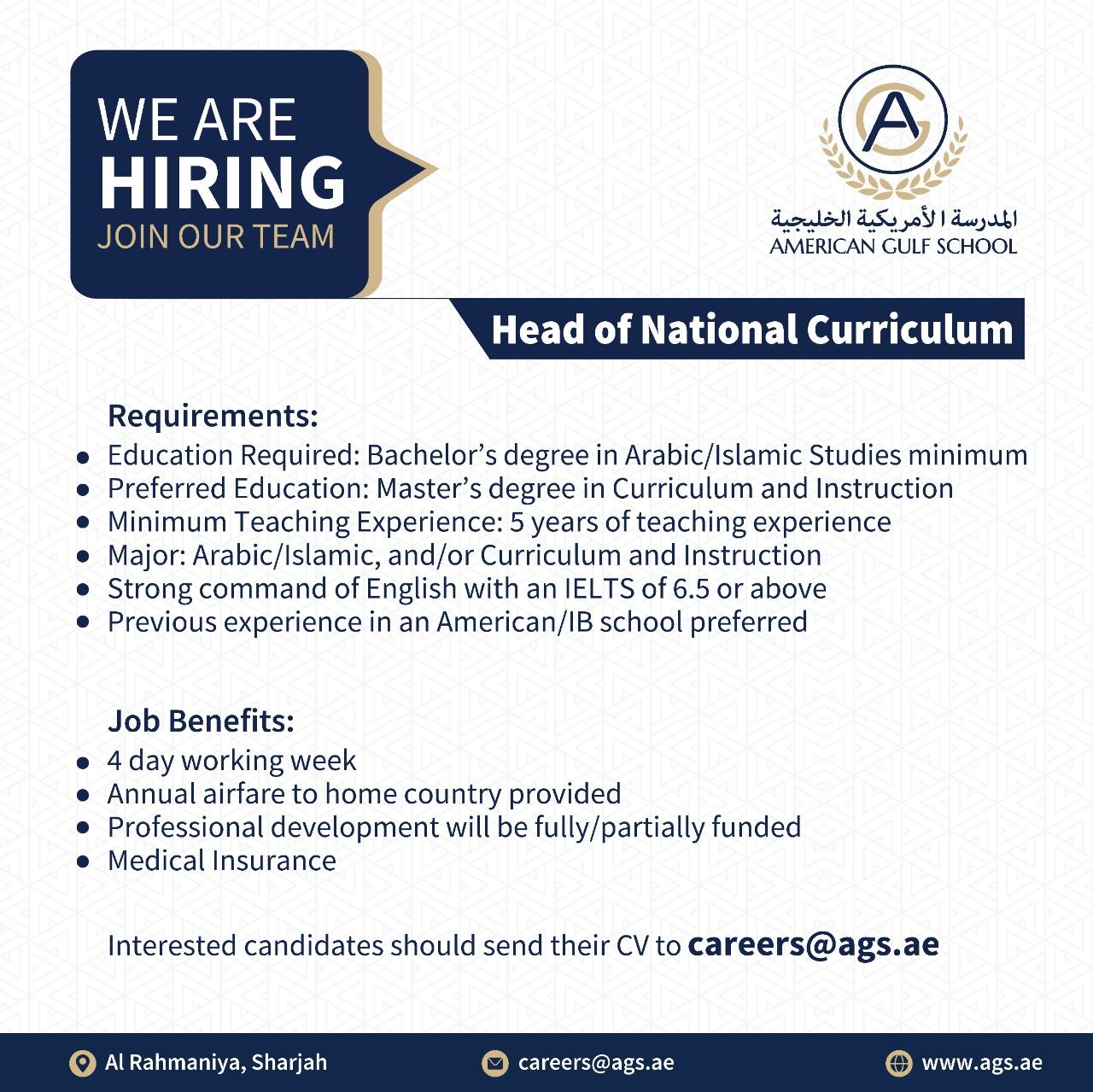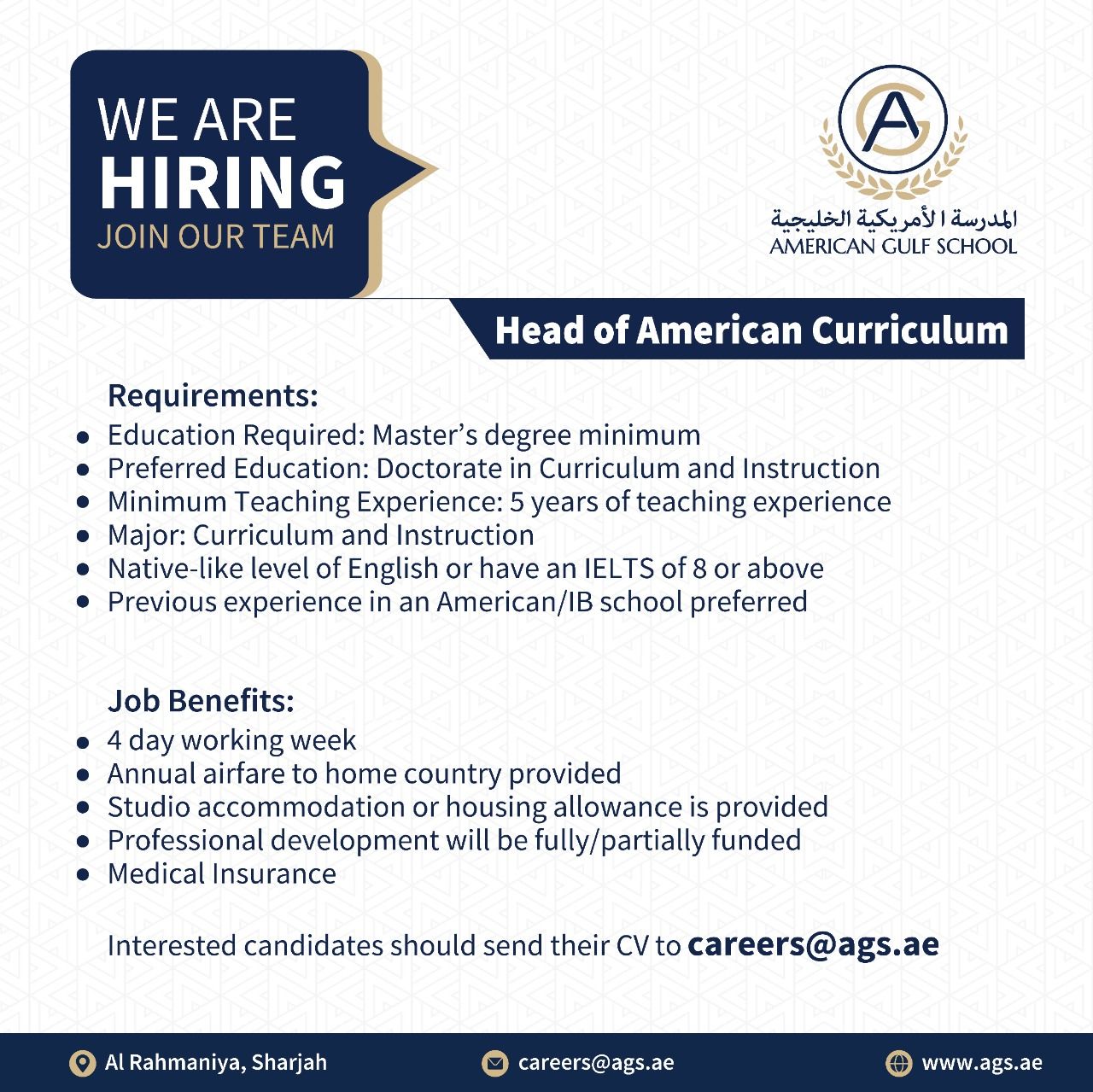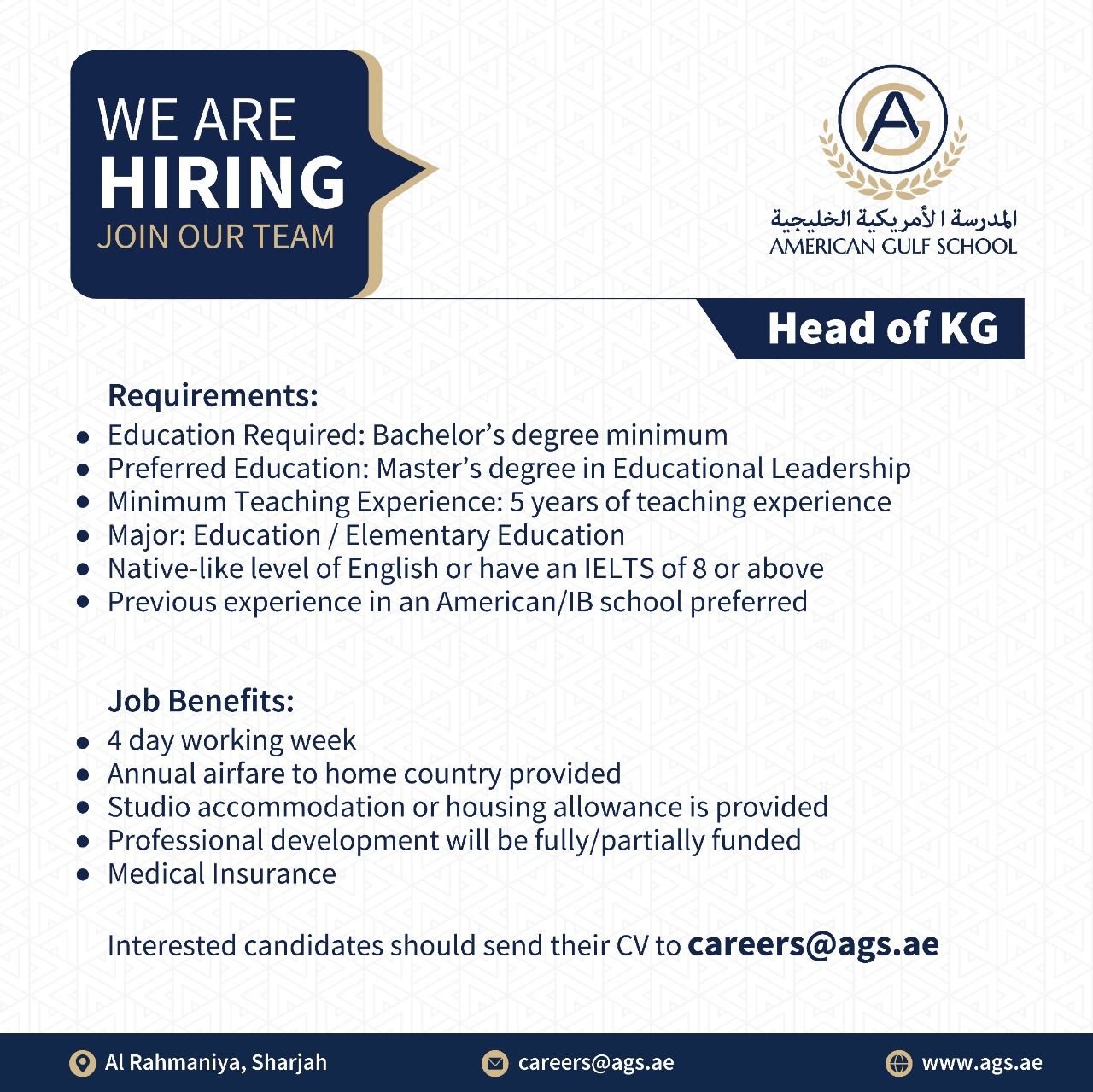 American Gulf School Curriculum
The American Gulf School curriculum is project-based, and learner centred. It encourages, requires, and builds critical thinking, driven by inquiry combined with both knowledge and comprehensive skills.
This allows learners to make authentic connections between different theories and be able to apply this knowledge in unfamiliar real-life situations.
The use of our STREAM, Media, Fabrication, and Design Labs gives our learners the practice and experience to apply the knowledge and skills they are being taught to succeed within the 21st century.
Academics
ACCREDITATIONS
American Gulf School is a candidate school for the International Baccalaureate (IB) Primary Years Programme and Middle Years Programme and pursuing authorization as an IB World School.
IB World Schools share a common philosophy—a commitment to improving the teaching and learning of a diverse and inclusive community of learners by delivering challenging, high-quality programmes of international education within the UAE that share a powerful vision.
AGS is a Cognia candidate for American Curriculum Schools.
1) KINDERGARTEN
American Gulf School has created a dynamic Pre-K, KG1, and KG2 programs to fulfil the developmental needs and interests of 3- to 6-year-old learners. Learning at AGS is a holistic learning experience that ensures all aspects of development are integrated (social, emotional, physical, and cognitive). At AGS, we believe that learners will only make excellent academic growth when they are happy, feel safe, and are settled socially. We place a strong emphasis on pastoral care from the moment a child joins our school.
The American Gulf School believes that for these goals and expectations to be achieved, our KG department provides a flexible and dynamic environment, ensuring that learning takes place through play and practical hands-on activities. The curriculum is designed to foster curiosity, inspire, and teach children to be reflective. To support learning, our classroom environments are set up so that learners can move freely around areas for reading, writing, art, construction, imaginative play, science, and mathematics.
Classroom capacity of no more than 20 learners are permitted. Children benefit from the educational experiences that their teachers provide for them. It is for this reason that each classroom is staffed by a qualified, experienced teacher; one full-time teacher assistant and academic support teacher when needed.
Each child's mental, physical, and social abilities are developed through a multi-sensory approach to education. Individual and group activities stimulate cognitive development and social growth. In addition, teachers often divide classes into smaller work groups and employ a system of learning centres to maximize each child's achievement.
We continually and consistently encourage each child to grow and develop individually, honoring each child's uniqueness. Young children need extended periods of time and as much space as possible to discover, investigate and play, with a variety of materials, in order to learn about themselves, other people and the world around them.
The KG environment reflects the natural developmental stages of learning and characterizes our program through our well-equipped and organized:
– Classrooms
– Resource room
– Design thinking lab
– Indoor soft play gym
– Garden courtyard
– Outside play areas
A learner's interaction in and with these spaces stimulates them to become active learners, by providing ongoing opportunities for them to:
– Make choices and decisions.
– Use materials in flexible and imaginative ways.
– Initiate inquiry and ask questions.
– Work collaboratively with others.
– Sustain their interests and extend their knowledge.
– Develop understanding of the world around them
2) PRIMARY SCHOOL
The AGS Primary School is a cross-curriculum program for learners aged between 6 and 11 years old. It combines 6 academic subjects:
– Arts
– Science
– Mathematics
– Social Studies (including UAE)
– Language
– Physical, Social and Personal Education
Integrated with six transdisciplinary themes:
How we organize ourselves
Sharing the planet
Where we are in place and time
How we express ourselves
How the world works
Who we are
Although the transdisciplinary themes are the same each year, the focus, content, central ideas, and lines of inquiry change. The PYP program is a framework that is learner-centered, inquiry and concept-based and is a technologically driven way of learning.
Being inquiry-based, the PYP program allows our learner's ample opportunities to personalize their learning experiences, with the support and guidance of our highly skilled teaching and support staff.
Children are naturally inquisitive, and the PYP program allows the encouragement of this curiosity in our children's learning.
The goal of the PYP program is to make all learning experiences authentic and allow our learners to make sense of the world they live in.
3) MIDDLE SCHOOL
The AGS Middle School is designed for learners aged 11 to 16. It develops active learners and internationally-minded young people who can empathize with others and pursue lives of purpose and meaning. It empowers learners to inquire into a wide range of issues and ideas of significance locally, nationally, and globally – essential qualities for global leaders of the future. It builds upon the knowledge, skills, and attitudes developed in Primary School.The result is young people who are creative, critical, and reflective thinkers.
MIDDLE YEARS PROGRAM
The Middle Years Program encourages learners to make practical connections between their studies and the real world. It is designed to help learners develop their personal understanding, their emerging sense of self, and their own responsibility in their community.
The Middle school offers 8 subject groups:
– Language Acquisition
– Language and Literature
– Individuals and Society
– Sciences
– Mathematics
– Arts
– Physical and Health Education
– Design
In Grades 9 and 10, learners have the option to take courses from six of the eight subject groups within certain limits, to provide greater flexibility in meeting local requirements and individual learner needs.
Each year, learners in the Middle School also engage in at least one collaboratively planned interdisciplinary unit that involves at least two subject groups.
Middle School learners also complete a long-term project, where they decide what they want to learn about, identify what they already know, discover what they will need to know in order to complete the project and create a proposal or criteria for completing it.
INTERNATIONAL MINDEDNESS AND MULTILINGUALISM
We view nationality as an institutional capturing of one form of identity, and within our school, we believe that people of all nations have more in common than they do differences.
American Gulf School appreciates the diverse cultures of the world and believes that education is a vehicle for creating a better, more peaceful world.
The AGS library has a variety of books to help learners from different backgrounds to read books in their mother tongue.
LIFELONG LEARNERS
At American Gulf School, we believe that lifelong learning enables each learner to develop confidence and perseverance to tackle any challenge they are given. We encourage learners to work together inside and outside the classroom as well as online, to achieve better results.
Lifelong learning builds self-awareness and respect for others. Learners develop invaluable leadership skills through learning to plan, negotiate, compromise, and consider. They are taught how to take constructive criticism and act upon it, as well as how to give it in order to get the task completed, therefore learning from it.
Student Care
1) INCLUSION
American Gulf School is an equal opportunities school, and we strongly believe in equality and diversity. We welcome learners from any race, nationality or cultural background.
We believe that a well-designed curriculum will result in turning students into lifelong learners who have the ability to become civic, business, and community leaders and advocates of the UAE in the international community.
Furthermore, AGS has no doubt that these learning beliefs are applied to all learners including learners that are in need of special assistance due to exceptional needs. This includes children who are on the gifted end of the learning continuum and children with learning challenges.
The school is inclusive and has a diverse learner/inclusion policy. Learners of determinati
2) ACADEMIC SUPPORT
AGS strongly believes that every learner deserves the same equal expectations from their learning. Therefore, we have in place extensive measures and use up-to-date academic support strategies to ensure that every learner reaches and fulfils their full potential. Learners have the opportunity to stay one hour after school time, working with their teachers on topics that they were not able to understand or complete during their lessons.
We ensure that all school administration staff dedicate sufficient time after school for academic support.
We offer one session during school hours for those learners who have been identified (through assessment, voluntary, or discussion with parents) as needing intervention to ensure learners have the skills to access the curriculum.
We employ an ESL (English as a Second Language) coordinator, Reading Specialist and many Academic Support personnel to help learners meet their Grade-level standards and to feel confident to achieve their goals and targets.
3) SCHOOL CLINIC
At American Gulf School, every child matters and their safety is paramount. We have ensured that our clinic is child friendly, with a fully qualified nurse on hand to administer first aid, medication, or just a little tender, love and care "TLC".
4) ACADEMIC GUIDANCE
We pride ourselves at AGS on enabling our learners to have a happy and confident educational journey. In order to fulfil this, not only do we employ the best of the best educators but also a comprehensive guidance team, from a Social Worker, Guidance Counselor, to a Head of Inclusion who are on hand to give help and guidance to any fears or questions they may have about any aspect of their learning or social, emotional wellbeing.
5) WELLBEING
The care, wellbeing, and safety of each learner are paramount at American Gulf School. All our staff, from maintenance through to the principal are aware of Child Safety and all risk assessment policies.
Teachers constantly assess any risk (physical or emotional) either inside or outside the classroom or online and if need be, act swiftly and accordingly. Having a safe and caring environment to learn and play, enables staff to ensure all learner needs, be it emotionally, physically, or learning to be identified quickly and dealt with in a positive manner.
We want our learners to have the confidence to speak out if they feel uncomfortable or need to speak to an adult about any aspect of their lives and so AGS employs a fully qualified counselor who is always available for learners to talk to.
AGS Portal
AGS ensures that all stakeholders have access to the portal to stay informed of recent announcements, news, events, and updates.
Enroll
ADMISSIONS PROCEDURE
ENQUIRY
FEES AND PAYMENTS
ONLINE APPLICATION
ADMISSION CONTACT DETAILS : Email Us here for admission
FOR ADMISSIONS : admissions@ags.ae
HELP DESK & QUERIES : info@ags.ae
Website
Industry
Education Administration Programs
Company size
51-200 employees
Headquarters
Al Rahmaniya Shaghrafah 4, Sharjah
Founded
2021
Specialties
Education, IB, PYP, MYP, KG, and American Curriculum