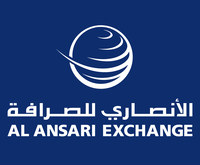 Website Al Ansari Exchange
Al Ansari Exchange L.L.C, a leading exchange company in the UAE with the largest branch network.
Al Ansari Exchange is a leading exchange company in UAE. The Al Ansari family started the business 60 years ago when formal banking was not common and with diligence and hard work today the company has the largest branch network in UAE.
Al Ansari Exchange Latest Jobs Vacancies
1) HR Helpdesk Executive – Apply For Job
2) Remittance Clerk – Apply For Job
3) Compensation & Benefits Executive – Apply For Job
4) Audit Officer – Apply For Job
5) Risk Assessment Compliance – Apply For Job
6) Interior Designer – Apply For Job
7) Graphic Designer – Apply For Job
Position : Senior HR Employee Relations Executive
Email : careers@alansari.ae
Work With Al Ansari Exchange,
The leading remittance and foreign exchange service provider in the UAE and Kuwait. Founded in 1966, the company has established its presence through an extensive network of more than 200 conveniently located branches to bring its services closer to its customers.
With a multicultural workforce of more than 2500 employees serving over 2.5 million customers per month, Al Ansari Exchange provides a truly excellent work environment and unrivalled professional perspectives.
Our focus is on attracting, developing and retaining career-driven and committed individuals who work together to achieve impressive milestones. We provide the best in the business by offering a market-driven compensation and benefits package, a professionally challenging environment, state-of-the-art learning opportunities and a culture built on time-tested values and beliefs.
# Livegulfjobs # Liveuaejobs # Gulfjobs # Jobs in UAE # Jobs In Dubai # Vacancies # jobs in Abu Dhabi # Careers # Jobs Vacancies
# LinkedIn Jobs # Dubai Job Vacancy # Emirates