Full Time
1500 - 20000 USD / Year
Salary: 1500 - 20000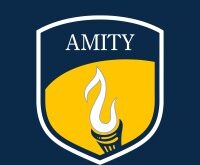 About Amity School
Amity School Dubai is a leading educational institution that is dedicated to providing quality education to students in the UAE. As one of the fastest-growing schools in the region, Amity School Dubai offers a wide range of career opportunities for those who are passionate about making a difference in the lives of students. Whether you are an experienced educator or just starting your career, Amity School Dubai offers a dynamic and supportive environment where you can grow and succeed.
Current Amity School Careers Openings
2) KG Teachers
3) Classroom Assistants
4) Receptionist
5) Activities Coordinator
6) Leering Support Assistants
7) Parents Relations Executive
8) School Nurse
Email : careers@amitydubai.ae
Career With Amity School
At Amity School Dubai, we understand that our teachers are the cornerstone of our success. That's why we invest in our educators, providing professional development opportunities, and fostering a culture of collaboration and support. Our teachers are passionate about their work, and they are committed to helping students achieve their full potential. If you're looking for a career where you can make a real impact, consider joining the Amity School Dubai team.
Opportunities for Growth and Development
At Amity School Dubai, we are committed to helping our educators grow and succeed. Whether you are looking to advance in your current role or explore new career paths, we offer a wide range of professional development opportunities. From workshops and training sessions to mentorship programs and leadership opportunities, our goal is to support you in your career journey.
 Dynamic and Supportive Work Environment
At Amity School Dubai, we believe in creating a positive and supportive work environment for our educators. Our school is a dynamic and fast-paced place to work, with a focus on collaboration, innovation, and student success. Whether you are working in the classroom, supporting students, or collaborating with your colleagues, you will be part of a team that is dedicated to making a difference.
FAQs about Amity School Dubai Careers
What type of positions are available at Amity School Dubai? Amity School Dubai has a variety of positions available, including teachers, support staff, administrators, and more.
What qualifications do I need to work at Amity School Dubai? The specific qualifications required for a position at Amity School Dubai will vary based on the role. However, in general, we are looking for individuals with a strong background in education and a passion for helping students succeed.
What benefits do employees at Amity School Dubai receive? Employees at Amity School Dubai receive a competitive salary, health insurance, and other benefits, as well as opportunities for professional development and advancement.