Full Time
1000 - 10000 USD / Year
Salary: 1000 - 10000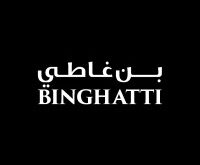 Website Binghatti
About Binghatti
Binghatti is a renowned name in the industry, known for its commitment to excellence and innovation. With a focus on engineering, architecture, and project management, we have established ourselves as a leader in the field. Our team of dedicated professionals is committed to delivering outstanding results for our clients. With a portfolio of successful projects under our belt, we continue to push the boundaries of what is possible and strive to be at the forefront of the industry.
Current Job Openings
1) Client Operation Officer – Apply Now
2) HR Manager – Apply Now
3) Senior Procurement – Apply Now
4) Female Head Chef – Apply Now
5) Female Guest Service Officer – Apply Now
6) Handover Officer – Apply Now
7) Female Guest Service Officer – Apply Now
8) Female Kitchen Helper – Apply Now
9) Junior Graphic Designer – Apply Now
10) Marketing Manger – Apply Now
11) Female Commis Chef – Apply Now
12) Learning & Development Executive
– with 3+ years experience working in related field. With experience from Group of Companies is a plus.
– able to develop and implement learning strategies and programs.
– able to deliver soft skills in corporate training.
– can create e-learning courses, career plans, workshops and more.
– ability to maintain budgets and relationships with vendors and consultants.
For interested to apply, please send your resume to recruitment@binghatti.com
Mention the subject: "Learning and Development Executive"
13) LEAD ARCHITECT
Roles:
. Excellent in 3D skills. Defining the creative and conceptual direction of projects.
Ensuring design development and documentation is in line with approved concept design and also aligned with best practices and quality control.
. Supervising and coordinating architectural design and drawings with other building disciplines and departments of Binghatti Group.
. Liaising with statutory authorities (DM, DCD, DSO, DCCA, etc.).
Qualifications & Skills:
· Minimum 10-15 years of design experience with minimum 7 years in the UAE.
· Registered with Society of Engineers, UAE
· Preferably within a multi-disciplinary consultancy and having construction site coordination experience.
. Strong portfolio to prove design and aesthetic skills.
· Sound knowledge of building products, construction details and relevant authorities' rules/regulations and quality standards. For interested to apply, please send your resume to HR@binghatti.com
Career opportunities
Binghatti is always on the lookout for talented individuals who are passionate about making a difference in the industry. Our career opportunities include roles in various fields such as engineering, architecture, project management, and more. We offer a dynamic work environment and opportunities for growth and development. Apply now and be a part of our mission to excel in all do.
Binghatti Career Development
Binghatti Career Development is a program that aims to help individuals advance in their careers by providing them with the necessary skills and knowledge. The program offers a range of services including training, mentoring, and coaching, as well as access to job opportunities and networking events. It focuses on helping individuals in the fields of technology, engineering, and business, but is open to anyone looking to improve their career prospects. The program is designed to help individuals at all levels, from entry-level to executive, and can be tailored to meet individual needs. The goal of Binghatti Career Development is to empower individuals to take control of their careers and achieve their professional goals.
LiveuaeJobs.com is the leading job site for professionals in the United Arab Emirates.
Make finding a job faster and easier. Tell us what you're looking for and our Technology will get to work for you.
Join LiveuaeJobs.com Linkedin Page Here You Will Get Latest UAE Jobs.
Daily You Will Get Live UAE Jobs in Whatsapp Group Join Here.
Daily Live UAE Jobs In Telegram Group Join Here.