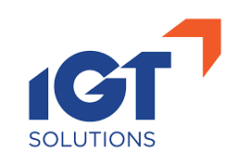 Website IGT Solutions
IGT Solutions Careers 2022
Information Technology & Services
About IGT Solutions
IGT Solutions (IGT) is committed to simplify complex customer interactions while delivering a seamless experience. It provides integrated BPM, Technology and Digital Services & Solutions for clients across industries. Established in 1998, with 100% focus on customer experience, IGT employs more than 13,500 customer experience and technology specialists providing services to 75 marquee customers globally. IGT's global footprint consists of 19 delivery centers in China, Philippines, Malaysia, India, UAE, Romania, Spain, Colombia and the USA. IGT is ISO 27001:2013, CMMI SVC Level 5 and ISAE-3402 compliant for IT, and COPC® Certified v6.0, ISO 27001:2013 and PCI DSS 3.2 certified for BPO processes. The organization follows Six Sigma rigor for process improvements.
Here Latest  IGT Solutions Jobs Openings
1) Assistant Manager – Training & Quality  – Apply For Job
2) Manager – BPO Operations – Apply For Job
Career Path
IGT gives its employees ample opportunity to be a part of world-class leadership development programs. It also encourages cross-functional movement for its employees to gain meaningful exposure.
Vision
To be the world's greatest customer experiences company making a billion complex interactions simple every year
Website
Industry
Information Technology & Services
Company size
10,001+ employees
Type
Privately Held
Founded
1998
Specialties
IT Consulting, TPF Outsourcing, Travel CRM, Testing, Baggage Desk, ERP, Flight Rebooking Services, ATPCO Fare Filing, Ticketing, Internet Booking Engine, eCommerce, Social Media, Mobile Solutions, Sales & Reservations, Customer Service and Support, customer experience management, Airline PSS, Contract Loading, Airline IT and BPO Solutions, artificial intelligence, rpa, robotic process automation, big data, data analytics, bpm services, Automation, customer experience, omnichannel crm, intelligent video analytics, social distancing analytics, CCTM, air cargo, and logistics bpo
# Livegulfjobs # Liveuaejobs # Gulfjobs # Jobs in UAE # Jobs In Dubai # Vacancies # jobs in Abu Dhabi # Careers # Jobs Vacancies
# LinkedIn Jobs # Dubai Job Vacancy # Emirates