Full Time
1500 - 20000 USD / Year
Salary: 1500 - 20000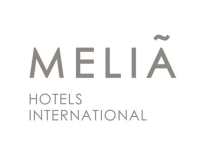 About Meliá Hotels International
Hospitality.
Founded in 1956 in Palma de Mallorca, Spain, Meliá Hotels International is one of the largest hotel companies in the world and the largest hotel chain in Spain in both resort and city hotels. The company currently operates more than 350 hotels in 35 countries and 4 continents under its brands: Meliá, Gran Meliá, ME by Meliá, Paradisus, Innside by Meliá, TRYP by Wyndham, Sol Hotels and Club Meliá.
Current Meliá Hotels Careers Openings
2) Commis Chef
6) Sales Manager – Corporate and Government
Career With Meliá Hotels International
Let your star shine bright We want you to feel recognized, valued and motivated. To achieve this, we will provide you with the tools you need to create your own path to success. We will be with you on this trip to celebrate with you every stage of your career. We want you to feel that you are at the heart of our talent policy You are our greatest asset, you are our star and we really hope that you can shine, because only then will we shine too.