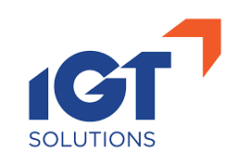 Website IGT Solutions
Senior Network and Automation Engineer Jobs in Dubai
About the job
About IGT Solutions Pvt Ltd
IGT Solutions Pvt Ltd is a leading IT & BPM services provider committed to deliver innovation and business excellence across the entire spectrum of Travel, Transportation and Hospitality domain. The company offers integrated IT-BPM services comprising of Application Development and Maintenance, Mobility, Testing, Analytics, Contact Center Services, Back Office Services and Consulting Services to the Travel industry worldwide.
IGT boasts of a talent pool of over 10,000+ travel industry experts with its 15 state-of-the-art delivery centers and worldwide operational presence. IGT, through its innovative solutions and services, offers a unique value proposition in terms of quality, flexibility and cost savings to a large number of airlines, travel management companies, OTAs, travel technology companies, airports, railways, cruise liners and hotels. The ideal candidate for this position will have a broad technical skillset and extensive experience in this industry. As a result, the candidate should be able to design, develop and test the products required for the company's needs. Moreover, the candidate should be able to work with other developers in determining product strategy.
Responsibilities:
Qualifications/ Trainings: * A Level. á Training courses in communications, LAN networking, and customer support aspects from a recognized vendor or training institute Experience:. á Minimum of 4years experience in the computer and communication industry
Engineer and Implement Hybrid Cloud Networking services and capabilities
• LAN, WAN, DNS, Zero Trust Network Engineering implementation within Hybrid Cloud and connectivity from Outstations, Remote Offices and Company DCs
• Owns and maintains Network engineering design
• Works with the DevSecOps team to implement and define the requirements for catalog automation for network infrastructure and policy as code to automate the full lifecycle of the design patterns.
• Works with Information Security engineers to ensure Hybrid Cloud networking patterns are aligned to enterprise security requirements policies.
• Ensures all hybrid cloud network infrastructure engineering patterns are designed with appropriate level of proactive monitoring, resilience and dynamic failover to meet internal and client SLA requirements.
• Works with the hybrid cloud network operations team to ensure the smooth transition of new services into production.
Pre-Requisites
• Bachelor's degree in engineering or Computer Science or equivalent experience
• 5+ years of experience in network infrastructure engineering covering senior technical roles especially in large public and private cloud environments
• 3+ years of experience in designing and building networking solutions, i.e., Direct connectivity to cloud providers, Firewall, segmentation and Zero Trust implementations
• Enterprise experience in design and delivery of network services using an 'Infrastructure as a code' approach.
• Proven experience in designing and building complex network solutions for large scale modern data centres as well as public and private clouds.
• Proven experience of working with and following Agile and ITIL practices
• Experience of engineering at high scale in at least 1 of the major 3 public cloud service provider (2 preferred)
• Experience of developing infrastructure as code and working following DevNetOps practices.
• Experience in working with cross functional enterprise Centers of Excellence which include International resources
• CCIE or Equivalent expert level certification
• Security domain certification like CISM, CISSP, CISA, CRISC
• Strong and sound knowledge on
a. dynamic routing protocols (BGP and OSPF)
b. SDWAN and SDN
c. Load Balancers
• Experience with infrastructure configuration and automations processes and tools: Terraform, Puppet, Ansible.
• Experience in Scripting (shell, python, Go)
• Strong command over the English language including the meaning and spelling of words, rules of composition, and grammar
• Ability to manage all documentation activities from information gathering, authoring, reviewing, editing, issue fixing to publishing
• Ensure adherence to quality and time with respect to content, review, feedback, and deliverables.
• Mentor, build, and guide the team on audience analysis, information gathering, authoring, editing, publishing, and all other relevant matters
"IGT Solutions provides equal employment opportunities to all individuals based on job-related qualifications and ability to perform a job, without regard to age, gender, gender identity, sexual orientation, race, color, religion, creed, national origin, disability, genetic information, veteran status, citizenship or marital status, and to maintain a non-discriminatory environment free from intimidation, harassment or bias based upon these grounds.