Full Time
1500 - 20000 USD / Year
Salary: 1500 - 20000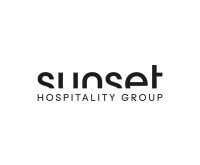 About Sunset Hospitality Group
Hospitality
Dubai
Sunset Hospitality Group, established in 2011, is a hospitality investment and management company known for delivering high-quality concepts, with a unique style and service-focused culture. With a commitment to innovation and quality, Sunset has pioneered several hospitality concepts and is a proud partner of award-winning brands from across the globe.   Spread across four divisions covering a wide range of hospitality experiences including
hotels
, restaurants, beach clubs, nightlife and much more, some of the brands in Sunset's portfolio include Black Tap, Luigia, Joe's Backyard, Ammos, Azure Beach, DRIFT Beach, STAGE, MOOD, SUSHISAMBA, Aura Skypool, Lola, Cloud, METT Social Living, Isola, MOTT 32, Universe, Goldfish and Folie.
Current Sunset Hospitality Group Careers and Job Vacancies
Hiring individuals who share our passion for hospitality and creating unforgettable experiences.
1) Food and Beverage Administrative – Apply Here
2) Restaurant Manager – Apply Here
3) Quality Assurance Officer – Apply Here
4) Pizza Chef – Apply Here
5) Floor Manager – Apply Here
6) Director of Finance – Apply Here
7) Human Resources Manager – Apply Here
8) Graphic Designer – Apply Here
9) Junior Sous Chef- Sushi – Apply Here
10) Design Manager – Apply Here
11) Motion Graphic Designer – Apply Here
12) Floor Manager
13) Commis 1
14) Reservation Agent
15) Head Waiter
Apply now at careers@sunsethospitality.com
16) Learning and Development Manager – Apply Here
17) Sales & Events Manager – Apply Here
Sunset Hospitality Group Careers opportunities
Sunset Hospitality Group is a dynamic and growing company in the hospitality industry that offers exciting job opportunities for individuals who are passionate about delivering exceptional service and creating memorable experiences for guests. The company operates a range of businesses including hotels, restaurants, bars, and nightclubs, and is dedicated to providing a unique and innovative approach to hospitality. Job opportunities include roles in operations, marketing, finance, human resources, and more. The company values creativity, diversity, and collaboration, and provides its employees with opportunities for growth and development. Joining the Sunset Hospitality Group team can be a rewarding and exciting career move for those who are driven by excellence and thrive in a fast-paced environment.
Sunset Hospitality Group HR Email Address
careers@sunsethospitality.com