Full Time
1500 - 20000 USD / Year
Salary: 1500 - 20000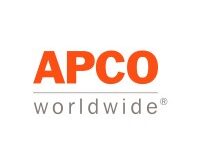 About APCO Worldwide
Public Relations & Communications
APCO Worldwide is an advisory and advocacy communications consultancy helping leading public and private sector organizations be catalysts for progress, navigate the challenges of today, act with agility, anticipate social risk and build organizational reputations, relationships and solutions to succeed. APCO is an independent and majority women-owned business with offices in more than 30 global markets and work in more than 80 countries.
Current APCO Worldwide Careers Openings
3) Regional Lead, Financial Planning, Analysis and Reporting
5) Project Consultant, Senior Designer
8) HR Intern
9) Integrated Communication Planning Manager
10) Graphic Designer
11) Senior Administration Officer
13) Associate Account Director, Communications
14) Project Coordinator, Public Affairs & Global Engagement
15) Project Manager, Public Affairs & Global Engagement
16) Director, Financial Communications
Advance Your Career with APCO Worldwide
At APCO Worldwide, employees have the opportunity to work on high-profile projects that make a real difference in the world. Whether you are a seasoned professional or just starting your career, APCO provides an environment where you can grow, learn, and advance your skills. With a supportive culture that values diversity and collaboration, employees have the support they need to succeed in their careers.
Opportunities for Growth and Development
APCO Worldwide offers a comprehensive training program that helps employees develop the skills they need to excel in their roles. From on-the-job training to mentorship programs, employees have access to the resources they need to succeed. In addition, the company also provides opportunities for employees to attend professional development workshops and conferences, which helps them stay up-to-date with the latest industry trends and best practices.
Specialties
Public Affairs, Corporate Communication, Executive & Board Communication, Opinion Research, Digital, Corporate Responsibility, Creative, Government Relations, Issues Management, Crisis & Litigation, Media Relations, Public Relations, Financial Communication, Management Consulting, Advertising, Advocacy, Corporate Advisory, and Impact Strategy