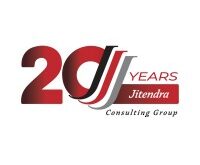 Jitendra Consulting Group Careers 2023
A full-service Audit, Accounting, Business Consultancy, Tax/VAT & Trademark Registration firm based in Dubai, UAE.
About Jitendra Consulting Group
Established in 2001. Jitendra Consulting Group is consist of three divisions:
1) Jitendra Chartered Accountants
2) Jitendra Business Consultants
3) Jitendra Intellectual Property
Initially delivering services in the spheres of Auditing & Accounting, JCG built upon its core competencies, adapted to the dynamic market, led business processes through innovation and constantly surpassed the expectations of its clients. Drawing spirit from an incredible grasp of fundamental values, business acumen and a keen interest in delivering the highest standards in all aspects of services, JCG has been winning over several multinational corporations, financial institutions and governments.
Backed by a full-fledged team of versatile, creative and seasoned industry experts, JCG expanded its services to several international financial hubs. Our aspirations lay in providing unmatched customer support, insightful services and strategic collaborations that almost create a revolution of sorts. Unwavering in our commitment to quality, cost and delivery, we welcomed into our fold ambitious new ideas that involved the setting up of strategic centres at various points on the globe.
Here Latest Jitendra Consulting Group Jobs Openings
1) Accountant – Apply For Job
Mission
Create greater value, tap unexplored potential and partner our clients towards an incredible new future through innovation, determined action and a resolute will to deliver the best.
Vision 
Ascend to the pinnacle of business performance and strive to deliver efficient new age functionality that allows our global clients to stay viable and stay ahead always.
Website
Company size
11-50 employees
Founded
2001