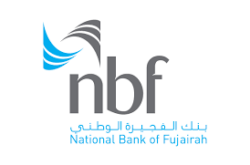 Website National Bank of Fujairah
National Bank of Fujairah Careers 2022
As a bank, we will help you with your finances, as a partner we will help you with your success.
About National Bank of Fujairah
Your global needs, our local bank – With NBF, you are in good hands Founded in 1982, the National Bank of Fujairah has an excellent reputation for excellence in the areas of corporate and commercial banking, trade finance, and treasury. More recently, we have expanded our range of services to include comprehensive personal banking options and have also stretched out our horizons into the digital world by introducing NBF Digital, showcasing a range of digital products suiting every business' needs. In addition to supporting various industries such as oil and shipping, NBF is also committed to supporting the economic development of the UAE and its home emirate of Fujairah. As the Bank is well credited for its solid financial footing on the capital markets, leading global counterparties turn to us for regional syndications. By building lasting relationships with our customers and helping them leverage opportunities in an ever-changing marketplace, we leverage our solid track record, powerful heritage, deep market insights, and uncompromising commitment to service and innovation.
Here Latest National Bank of Fujairah Jobs Openings
1) Sr. Manager – Credit Risk Audit – Apply For Job
2) Executive – IT Audit – Apply For Job
Website
Industry
Banking
Company size
501-1,000 employees
Type
Public Company
Founded
1982
Specialties
Corporate & institutional banking, Corporate advisory/loan syndication, Commercial banking, Trade services, Treasury services, and Specialisation in the precious metals, energy and marine sectors
# Livegulfjobs # Liveuaejobs # Gulfjobs # Jobs in UAE # Jobs In Dubai # Vacancies # jobs in Abu Dhabi # Careers # Jobs Vacancies
# LinkedIn Jobs # Dubai Job Vacancy # Emirates