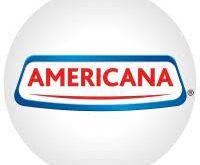 Website Americana Restaurants
Americana Restaurants UAE Careers 2022
"Making a difference in the restaurants and the communities where we operate"
About Americana Restaurants
Americana Group is one of the largest and most successful companies in the Middle East & North Africa (MENA), with capabilities spanning restaurant operations, manufacturing and distribution. Our much-loved brands are present in more than 20 markets globally. For over 50 years, the Group has managed a wide portfolio of well-respected brands across its two Divisions: Restaurants and Food, creating direct jobs for over 55,000 people, today. A regional pioneer, Americana introduced the concept of Quick Serving Restaurants (QSRs) to the Region. Opening its first QSR, Wimpy, in Kuwait in 1964. Today, the Restaurants Division operates close to 2,000 restaurants, with over 35,000 employees, in 12 markets. Americana is the franchisee for some of the world's most prominent brands in fast food and casual dining; including KFC, Pizza Hut, Hardee's, Krispy Kreme, Costa Coffee and TGI Firday's; to name a few.
Here Americana Restaurants Latest Jobs Openings
1) Senior Manager Taxation – Apply For Job
2) Area Coach Krispy Kreme – Apply For Job
3) Legal Counsel – Apply For Job
4) Assistant Manager Finance – Apply For Job
5) Human Resource Manager KFC – Apply For Job
6) Manager – Insurance Risk – Apply For Job
7) Finance Manager – Apply For Job
8) Information Technology Governance Manager – Apply For Job
9) Senior Legal Counsel – Apply For Job
10) Talent Acquisition Specialist – Apply For Job
11) Assistant Manager – CRM – Apply For Job
12) Database Administrator – Apply For Job
WHO WE ARE
The Americana Group is one of the most successful organizations in the Middle East region. The group is considered one of the largest food manufacturing and distributing companies in the region. The group was founded back in Kuwait in 1964, and introduced the concept of QSR's (Quick serving Restaurants) in the regional market in 1970. The group with its two divisions operates 1800 restaurants across the region as well as 25 food production sites across the UAE, KSA, Kuwait and Egypt, offering the safest, most reliable and best quality food
OUR BRANDS
– Restaurants
– Food
CAREERS
At the Americana Group, we firmly believe that the most important asset behind the success of our organization is our people. They are at the heart of everything that we do, the true backbone and foundation on which the company was built on, hence we make sure that our people always come first on our list of priorities.
Website
http://www.americana-group.com
Industry
Food & Beverages
Company size
10,001+ employees
Type
Privately Held
Specialties
QSR, Catering, Restaurants, Manufacturing, Food, Casual Dining, Fast Food, and Consumer Brands
# Livegulfjobs # Liveuaejobs # Gulfjobs # Jobs in UAE # Jobs In Dubai # Vacancies # jobs in Abu Dhabi # Careers # Jobs Vacancies
# LinkedIn Jobs # Dubai Job Vacancy # Emirates