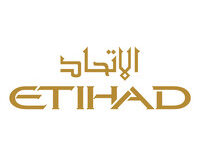 Website Etihad Airways
Etihad Airways Careers Jobs openings Abu Dhabi
Airlines/Aviation
Abu Dhabi
About
Etihad Airways is the national airline of the United Arab Emirates. We've come a long way since our journey started in 2003, and we're delighted to have been able to share our worldwide adventure with millions of passengers ever since. We know that no traveller is the same, and that's why choice is at the heart of everything we do. When you choose Etihad Airways, you decide exactly how you want to fly. Multiple options, unlimited experiences. We're also proud to call Abu Dhabi our home. The capital of the UAE is at the crossroads of the world, filled with rich heritage, captivating culture and breathtaking experiences
Careers at Etihad
We've come a long way since our first flight in 2003. Now a leading aviation and travel group, we're proud to have shared our adventure with millions of people around the world. The passion and commitment of our staff has made us what we are today – from frontline airport teams and cabin crew in the sky, to the people who work behind the scenes around the world. With over 20,000 employees from 151 different nationalities – you can choose the best way to start your journey at Etihad today.
Here Latest Careers openings Etihad Airways
1) Mgr. Strategic Workforce Communications – Apply For Job
2) Manager Diversity, Equity & Inclusion – Apply For Job
3) Marketing Media Analyst – Apply For Job
4) Manager Digital Sales/eCommerce – Apply For Job
5) Manager Innovations & Solutions – Apply For Job
6) Senior Manager Procurement – Apply For Job
Detailed Information about Etihad Airways:
Etihad Airways is the second largest airline in the UAE, after Emirates. Its head office is in Khalifa City, Abu Dhabi near Abu Dhabi International Airport. Etihad Airways carries over 15 million passengers annually from over 81 destinations.
Etihad Airways has some of the latest and most modern air crafts in it's fleet and working with the airline will give you excellent exposure to the latest technologies. There are 111 state of the art aircrafts in it's fleet and its continuously expanding.
Cabin Crew Jobs
A career with Etihad Airways will take you all around the world. Ready to join us? We're recruiting!
Imagine visiting Sydney's Opera House at the start of the week, dining in Paris at the weekend, then shopping on New York's Fifth Avenue the following week.
Our Cabin Crew are truly global citizens who share a collective passion of caring for our guests, inspired by the traditional Arabian hospitality found in our home – Abu Dhabi. Our crew aspire to surpass our guests' expectations, inspire them through innovative hospitality and ensure their onboard safety.
We are looking for exceptional people to join our team. If you share a desire to inspire others and travel the world, explore our opportunities and join us as a member of our Cabin Crew.
Learn more about what it takes to become Cabin Crew and our Cabin Crew assessment days
Know our values
Personal – Thorough – Caring – Creative Our values are at the core of who we are, and how we do things. They help set the scene for us to understand who we are, what we do, and how we are organized. It aims to explain our business facets and how they all work together. Finally, it lays out how we aim to invest in our most critical asset, our people.
# Livegulfjobs # Liveuaejobs # Gulfjobs # Jobs in UAE # Jobs In Dubai # Vacancies # jobs in Abu Dhabi # Careers # Jobs Vacancies
# LinkedIn Jobs # Dubai Job Vacancy # Emirates